Diplast: your all round packaging and protection sheets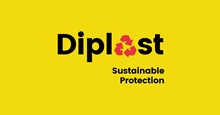 From food contact layer pads to pallet protection, our Diplast corrugated sheets are convenient for all packaging and protection needs.
BLACK LAYER PAD
Primarily made from recycled polypropylene, our black layer pads are the cheapest and greenest solution to protect goods on a pallet bottom.
This eco-friendly solution is ideal if you wish to protect your goods from forklift impacts, nails or moisture and dirt from the pallet or floor.
COLOUR LAYER PAD, DISK
Layer pads, a pallet bottom, top or side protection according to your technical specifications? Our Diplast colour layer pads can be die-cut with rounded corners or any other bespoke shape you like. Disks are die-cut up to 2.4 m diameter.

Going from standard colours to customised colour matching, everything is possible and can be finished in various treatments, like Corona, anti-UV, antistatic, ESD, VCI treatments and many more.
FOOD CONTACT LAYER PADS
We are constantly adapting the composition of our food contact layer pads in order to meet European regulation.
By default, our food contact layer pads are available without printing in the following colours: translucent, white and standard blue.

You can always ask us for different colours, treatments, printing or pin pricked identification for your food layer pads and have them approved by an accredited certifying laboratory.

Download our technical datasheet for more details and technical information on Diplast serie "E".