Diplast: your advertising & communication support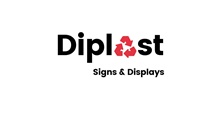 Looking for a lightweight, cost effective, printable temporary communication or advertising medium? Diplast can be screen or digitally printed on and perfectly suitable for use as POS displays, banners, billboards and real estate advertising.
Diplast corrugated sheets accentuate the photo rendering of your print with its mat silk touch which will make your prints stand out from the rest.
As an all-weather material, Diplast can be used both indoors and outdoors and will resist the nastiest weather conditions.
Moreover, Diplast combines extreme lightness with excellent rigid stability, which can be manipulated and fixed with ease.
Along with a high performance Corona treatment on both sides of the sheet, the following special treatments are also available on request:
Anti-UV-treatment
Flame retardant treatment
Anti-static
Download our technical datasheet for more details and technical information on Diplast signs & displays